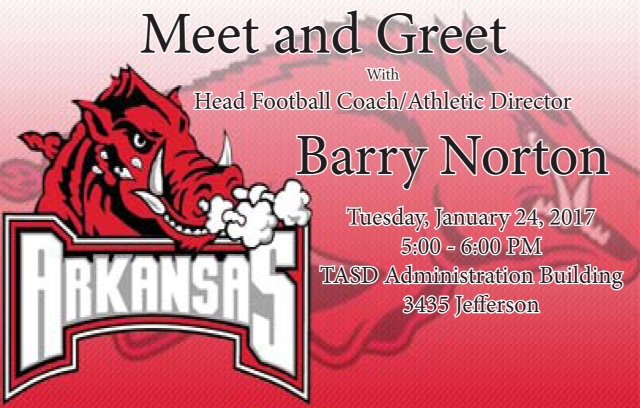 A chance for the public to meet Mr. Barry Norton,the new head football coach and athletic director for TASD.
Coach Norton graduated from Hooks High School and holds a Bachelor of Science degree in Education from East Texas State University. Norton brings over 30 years of coaching experience to the position. With a history of turning athletic programs around, Norton says he is excited to have the opportunity to join the Razorback family and build a successful program. "I look forward to working with our students, families, staff and community to continue the proud Razorback tradition."
Norton previously served as the Head Football Coach and Athletic Director at Texarkana Texas Independent School District which received State Championships in football, swimming, baseball, and boys track. He led TISD to multiple district and post seasonal championships in all sports. Prior to coaching at TISD, Norton taught History and coached at West-Orange Stark High School and Lufkin High School.
"The road to success in rebuilding the football program, as well as, our other programs, will be both challenging and rewarding," commented Norton. "We must focus on what's ahead of us and move forward."
Superintendent Dr. Becky Kesler said she is confident that Coach Norton will hit the ground running. "The selection committee felt Coach Norton's leadership qualities and wealth of experience put him over the top in a very competitive pool of candidates," stated Dr. Kesler. "Coach Norton's enthusiasm and passion for the game is contagious and we are fortunate to have him as our new Head Football Coach and Athletic Director."
Meet and Greet for Coach Barry Norton
Tuesday, January 24
5:00 - 6:00 p.m.
TASD Administration Building Board Room